Per your parent handbook, we will follow the OCPS closures. Please keep in touch with the local news for closure days. If we can open prior to OCPS we will let you know. We want everyone to be safe.
Updated 9/3/2019 4:30pm
The Orlando weather forecast continues to improve. To serve you better we are working hard to get the centers open tomorrow.
As long as conditions allow we will open the centers at 7am Wednesday. I will send an update later this evening.
Thank you
Updated 9/4/2019 5:41am
I hope all is well with your families. All is well at both centers. We will open both centers at 7am this morning. Hope to see you today.
Updated 9/3/2019 9:00am
Due to the slow movement of the hurricane we are unable to determine weather it will be safe to open tomorrow. I will continue to update you as we receive new information. We know many of you will need to get to work so we will do our best to open the centers but we want everyone to be safe!
Updated 9/2/2019 10:33am
We are still waiting to see how much wind and rain Orlando will receive before we make a decision on opening Wednesday. If we have power on Wednesday we will make every effort to open both centers. Wednesday morning. Thank you and be safe!
Updated 8/30/2019 3:33pm
All OCPS schools and buildings will be CLOSED Tuesday, September 3. OCPS continues to monitor #HurricaneDorian with @OrangeCoFL, @citybeautiful & @NWSMelbourne.

Determination for beyond Tues will be made when more information is available. Make-up date is Oct 18.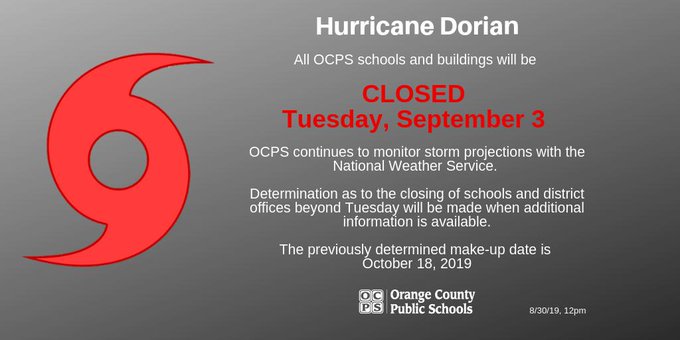 70 12:14 PM - Aug 30, 2019 Twitter Ads info and privacy